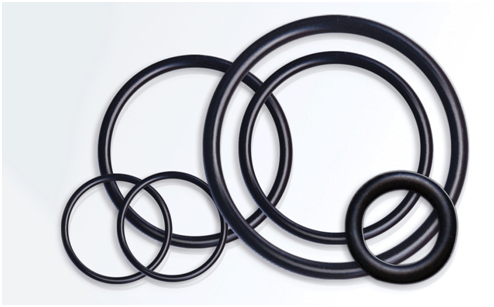 We are proud to present Perfluoroelastomer ffkm o-rings as part of our diverse range of Rubber Moulded products. These are unique type of O Rings that are manufactured using Perfluoroelastomer (FFKM), which is resistant to nearly every chemical class and therefore is ideal to work as a sealant in variety of chemical industrial processes.
FFKM is a family of perfluoroelastomer compounds that contain even higher amounts of fluoride than FKM. FFKM o-rings provide exceptional high temperature and chemical resistance, and can even withstand prolonged exposure to oxygen-plasma. FFKM o-rings can be provided for continuous service in temperatures as high as 621°F (327°C). These o-rings, etc., are commonly used in applications that involve repeated or prolonged contact with hydrocarbons and/or highly corrosive fluids, or those that encounter a wide range of temperatures and retention of sealing force are paramount; these Perfluoroelastomer ffkm o-rings are sure to impress our domestic as well as overseas clients. The unique production materials and impeccable quality of the product has helped it emerge as a favourite in the market. This has also helped us come forward as part of the popular Perfluoroelastomer ffkm o-rings Manufacturers .
FFKM perfluoroelastomer materials are specified by ASTM 1418 standard, and are equivalent to FFPMs by ISO/DIN 1629 standards.
Features of FFKM seals include:
High temperature stability up to 327°C (620°F)
Almost universal chemical resistance
Outstanding mechanical properties
High purity materials
FDA, USP Class VI and 3A compliance
Highest quality parts
Applications:
Widely apply to semiconductor, panel, and petrochemical industry. Apply to harsh environment, like etching, film process, high temperature, liquid, strong acid and base.