We offer premium quality O Ring Seals to India market as well to international markets that are widely used as an efficient, cost-effective sealing element for a great diversity of applications where temperature ranges from -65°C up to 320°C. Manufactured using various grade of elastomeric materials, our O Ring Seals are guaranteed to seal reliably sealed almost 1,800 different chemicals based on material selection.
As far as the design is concerned, we offer standard sizes like Parker O-ring, AS586, ISO 3601 & customized requirement. Over the years our O Ring Seals have found application in diverse range of industrial processes, both static as well as dynamic.
Static Applications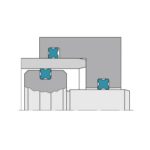 In static applications, the O Ring Seals are fitted between the two non-moving/static parts so that O-Ring remains static in assembly. Whereas in dynamic processes.
Dynamic Application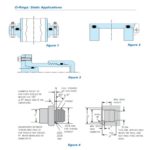 The O-Ring is fitted between the two moving/dynamic parts so that O-Ring remains will face the dynamic gland movement. The unique design and exceptional quality of O Ring Seals have made us a favorite in markets across India and the world.